It's that time of year again…
The groceries are purchased, the meal plan is set. And this time tomorrow, all the work will be done, as will the elaborate meal.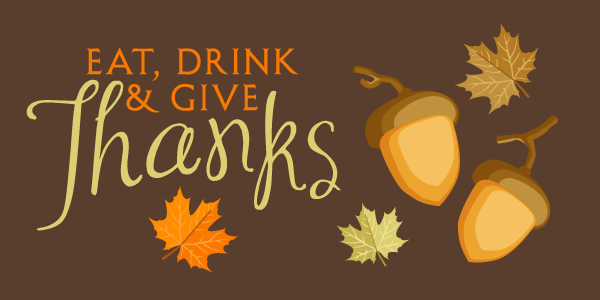 Thanksgiving remains my favorite holiday. Even though this year may feel like everything has gone awry, we can take this opportunity to put things into perspective and count our many blessings.
Needs
I am grateful that my family, wherever they are, has been afforded all basic needs: food, water, shelter, clothes, air, etc.
Even for those of my family and friends impacted by the hurricanes this year, they are still not wanting for the basics.
And though my contribution to helping others less fortunate is small relative to the challenges they face, if we all do our part, we can make a difference. It's this time of year that I especially remember that there are those who want for what I take for granted.
Wants
Anyone with small children who watch TV this time of year knows that there's a new "it" toy every commercial break.
Whether for children or for adults, we don't need any new toys in our house. We've been systematically trying to clear some of the clutter of things we've outgrown.
Even in my own shopping, whether it's clothes shopping or beauty buys or gadgets, I find it amazing that I can get that elusive item that fits my expectations and my budget.
At the start of the holiday season, it always breaks my heart to see parents struggling to make a good holiday for their kids due to financial constraints.
And, yes, I know and agree that a memorable holiday doesn't have anything to do with the monetary value of the gifts under the tree.
Luxuries
There are so many things we pay money for that we don't need, services we take for granted that someone will do for us, or items that we get that are nicer just because. Do I take for granted carrying a designer logo on shoulder or wrist, fancy gadgets or vanity spending? I need to do better about recognizing how very blessed I am.
This year we've been blessed to take some awesome trips, and the memories we made will last a lifetime. That's the best luxury of them all, and I'm so grateful that we've been able to do that as a family.
So this Thanksgiving I'm going to consciously improve my gratitude practice and appreciate just how good I really have it.
I wish you and yours a very Happy Thanksgiving.