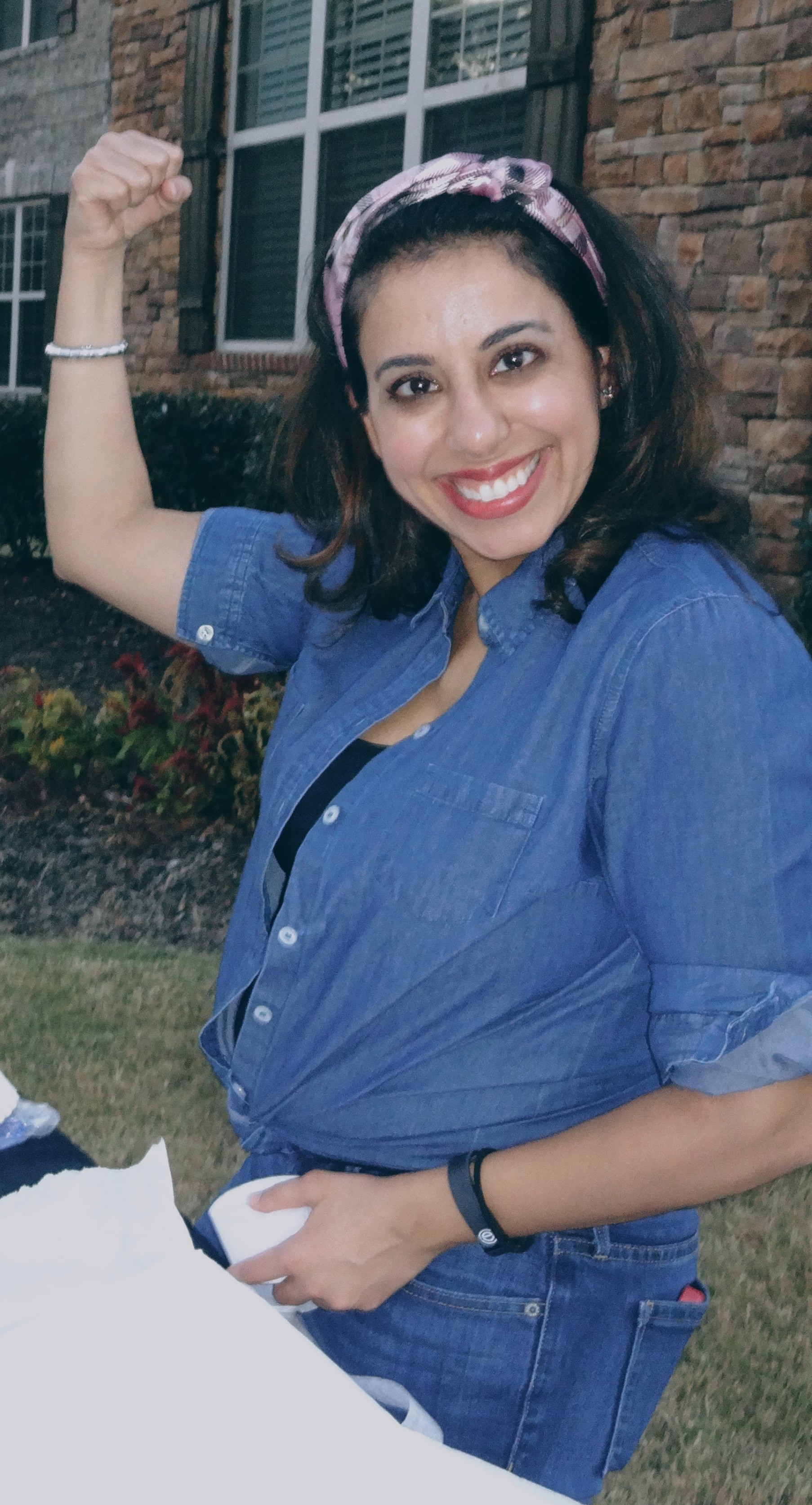 I had a fabulous in-costume picture from a recent trip that my husband insists he doesn't want me to share. Since I'm about a year behind on Halloween pictures, you'll probably see it next year…
Halloween is here again, and I'm thrilled as always. This year's costume may be more recognizable to most classic Disney movie aficionados than last year's (pictured) rushed-home-from-work-to-get-ready-for-a-Halloween-party. However, I loved getting to commemorate such a historical character for Halloween. In my neighborhood, there are enough people who aren't familiar with American pop culture and American history to recognize her, but my clue to you is "We Can Do It!" Let me know in the comments if you figured it out.
I love that T doesn't want to be a princess: her favorite show is "Jake and the Neverland Pirates" and she was determined to be the one with the "Green Hat, Red Feather." I'd rather she was a swashbuckling adventurer than Cinderella any day. While D doesn't usually have too much of an opinion about these things yet, when he got his little Jake costume on, he was just as pleased as any two-year-old could be.
Call for Beta Readers
Of course, Halloween brings with it shades of NaNoWriMo. While I'm not planning to participate this year, it's because I'm feverishly working to wrap up my edits to Book 2 of "Sea Deception."
Titled "Sea Rivals," it follows the story of my heroine four years after the conclusion of "Sea Dreams." And that first book is completely finished and ready for beta readers and formatting: I don't plan to touch it again to make any further changes. Edits all in doubled the word count, and I couldn't be happier with how the story has turned out. If you're interested in being a beta reader, sign up to the mailing list and indicate or update your preference.
So I've been hard at work scribbling…as soon as I knock out my first-pass edits to Book 2, I'll send it to my editor for her feedback. Then I'll get to the business of writing the first draft of the final book, whose title is still not completely decided. That last book is fully plotted out, and I just need to find the time to sit still and write the story. I even have a thought for a bonus book following related characters, so let's see how this series plays out.
But first, Halloween!
(Then beta readers)
What costume do you have planned?