We had the good fortune recently to get free tickets to see Phil Collins in Atlanta for the macabrely titled "Still Not Dead Yet" tour. While K and I brought the average age of the audience down a bit, we are big fans of his music.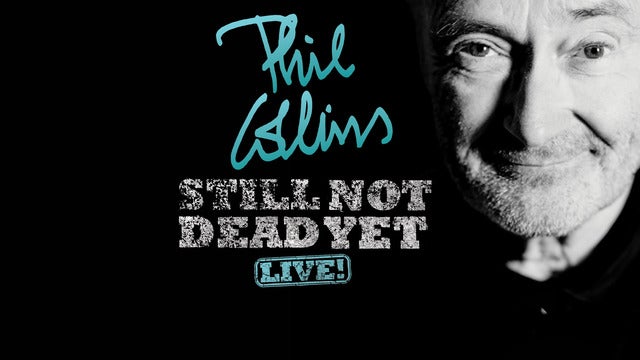 K and I have managed to get to a number of concerts in the last year or so, which is unusual for us. We went to see Tom Petty and the Heartbreakers (RIP Tom!) when I was pregnant with T, then took a long hiatus. In the last year, we have seen a number of shows:
Def Leppard, Journey, and The Pretenders
2Cellos
Florence + the Machine
and obviously, Phil Collins
Based on the title of the show, perhaps we shouldn't have been so surprised at the singer walking out on stage with a cane and spending the whole show seated. His voice sounded more nasal than the songs we hear on the albums do—I'm reminded of watching Enrique Iglesias at the Houston Rodeo in the early 2000s and finding that his Spanish sounded like the radio, but his English was super-nasal. American accents are typically more nasal than British ones, but I wonder if age just did Phil Collins's voice in.
The show had an impressive band, including four backup/duet singers, a full horn ensemble, and not one but TWO drummers. Phil Collins was especially proud to present the last of these, his 18-year-old son, who has been playing with the tour for the last two years.
An accomplished drummer and pianist, Nicholas was amazing to watch. My favorite part was watching the interaction between father and son. They performed alone together while Nicholas played piano, and the three drummers performed a percussion piece together with their hands.
Since Phil Collins is known for playing the drums, it must be an especial honor and challenge for his son to be on tour with his father. Obviously, Nicholas is incredibly talented—could you imagine Phil Collins permitting subpar drummers in his show?
Then you puzzle over how this young man became so good so young… Is musical talent genetic? (Maybe…) Is he driven? (Definitely.) Is he sacrificing some other desired skill set to focus entirely on this? (I'll never know.) And maybe the opportunity to perform with his ailing father is enough to make up for any other sacrifices.
At the same time, I'm reminded of what I have read in Malcom Gladwell's "Outliers," that opportunity to gain exposure and practice takes natural talent to another level. Of course a musician's son would certainly be exposed to music and different instruments in a greater way than someone without such a background, so he'd get his fabled 10,000 hours of practice in long before someone with a different exposure rate.
Given that, perhaps Nicholas Collins's impressive musical skillset is not so surprising. I will say that it was an absolute joy to watch the show, and I look forward to following Nicholas Collins's musical career.